Breckenridge's stellar network of summer hiking trails transforms into a winter wonderland of snowshoe trails when the snow falls.  Nothing beats the serenity and solitude of donning a pair of snowshoes for a relaxing day in the woods. Here's a selection of easy Breckenridge snowshoe trails to get you started on your next adventure.
1. Breckenridge Nordic Center
Breckenridge Nordic Center is located on Peak 8 and is another great stop for families and beginner snowshoers.  The nordic center offers three beginner trails, on-site rentals and guided snowshoe adventure tours.  After a day of snowshoeing, explore the nordic center's beautiful handcrafted lodge to warm up with food and drink specials.
2. Gold Run Nordic Center
Gold Run Nordic Center offers three interweaving groomed beginner snowshoe trails. These trails are perfect for beginner snowshoers as well as families because the nordic center offers convenient rentals, groomed trails and the option of post-excursion hot chocolate next to a roaring fire.
3. Summit County's groomed rec path
Snowshoers can explore the groomed section of the Summit County rec path that extends from the Breckenridge Rec Center to the Frisco Adventure Park, offering over 8 miles of fee free, winter recreation.
4. Groomed Trails in the iconic Golden Horseshoe
In addition to the bike path, the Town of Breckenridge grooms Tom's Baby and Middle Flume trails in the iconic Golden Horseshoe area.
5. South Illinois Creek Trail
South Illinois Creek Trail is one of the closest snowshoe trails to downtown. Start your trek on South Illinois High before quickly jumping on the Blue River Bike Path. Go for a little more than a half-mile before hanging a quick left (there isn't a sign but it's clearly visible). A quick climb will lead to a great overlook of Breckenridge, complete with a wooden bench.   For your return, hop on the Southside Trail for a bit more distance or head back the way you came for a solid out-and-back experience.
6. IOWA HILL MINE TRAIL
This is an easy trail is filled with history!  The trail winds through an abandoned mining site with historical artifacts and signage.  The hike starts with a gradual climb but there are lots of spots for breaks as well as benches. The last portion of the hike is all downhill. The Iowa Hill Mine Trail is only one and half miles total and is a loop so you won't get lost.
7. SAWMILL TRAIL
This short, easy hike is rich in views and close to town. Sawmill Trail is well shaded by pine trees and has a gentle elevation gain that makes it perfect for beginner hikers as well as children.  The hike finishes with views of the Breckenridge Ski Area, 10-Mile Mountain Range and a reservoir that is a perfect spot to relax and enjoy the views.
8. REILING DREDGE
Reiling Dredge Trail is a short, aspen-lined trail is great for beginners and takes hikers to the Reiling Gold Dredge, a historic mining dredge boat last used in 1922. If you are looking for a longer hike, this trail connects to the B&B Trail and into a network of intersecting trails in the historic mining district.
9. INDIAN GULCH TRAIL
Indiana Gulch Trail is a 2.8 mile lightly trafficked out and back trail located near Breckenridge, Colorado and is good for all skill levels. The trail is primarily used for hiking and is best used from May until October. Dogs are also able to use this trail but must be kept on leash.
10. Boreas Pass Road
One of the most popular snowshoe trails in Breckenridge Boreas Pass provides elevated views of Breckenridge Ski Resort as well as the entire Mosquito Range and Tenmile Range. It is also one of the best sunset viewing spots in all of Summit County.
11. Burro Trail
Burro Trail is a great choice for a family snowshoeing trip. It has minimal elevation gain, so it's ideal for snowshoers of all ages. Plus, the trail winds through the woods alongside a creek, so you'll be treated to some lovely winter scenery.
12. French Gulch
If you're new to snowshoeing, French Gulch is the trail for you. It's also a wonderful choice as the first trail of the season. Although the conditions vary throughout the season, they're frequently quite nice and the mountain range views can't be beat!
13. B&B Trail
Not only is this trail close to town, but the B&B Trail also quickly transports you back to the early mining days of Breckenridge with mound after mound of tailings piles and relics from the past. Saunter through the wintry woods for close to a mile before coming to a junction. Take a left to continue on the loop or hang a right to extend your day on Turk's Trail before joining up with Sallie Barber Road. On your return trip, stop and check out the historic Reiling Dredge and enjoy the views of peaks 6 and 7 of Breckenridge Ski Resort in the distance.
14. Guided Adventures on Breckenridge Snowshoe Trails & More
Breckenridge is home to two Nordic centers that together boast more than 50 kilometers of groomed classic, skate and snowshoe trails. If you'd prefer to explore the snowshoe trails with a guide, visit the Breckenridge Nordic Center or the Gold Run Nordic Center. Additionally, locals that make up Colorado Adventure Guides offer guided trips that can take our your group out for adventure. Looking to kick up the pace? Check out some top winter activities in Breckenridge, as well as tips on skiing and riding.
Looking for more winter and family-friendly fun? Check out these 16 snowy things to do if you don't ski.
Where to rent snowshoes in Breckenridge, CO
Many ski shops in town also rent snowshoes. We recommend checking Mountain Outfitters, Alpine Sports, Carvers, Chrsty Sports, Breck Sports or Black Tie Rentals for snowshoe rentals.  If you are heading to one of Breckenridge's two nordic centers, you can rent snowshoes on site.
Winter + Spring in Breckenridge
The Breckenridge Tourism Office works to enhance and promote the unique character and experience of Breckenridge as a world-renowned destination resort and to represent, serve and perpetuate the common interest and character of its membership and community.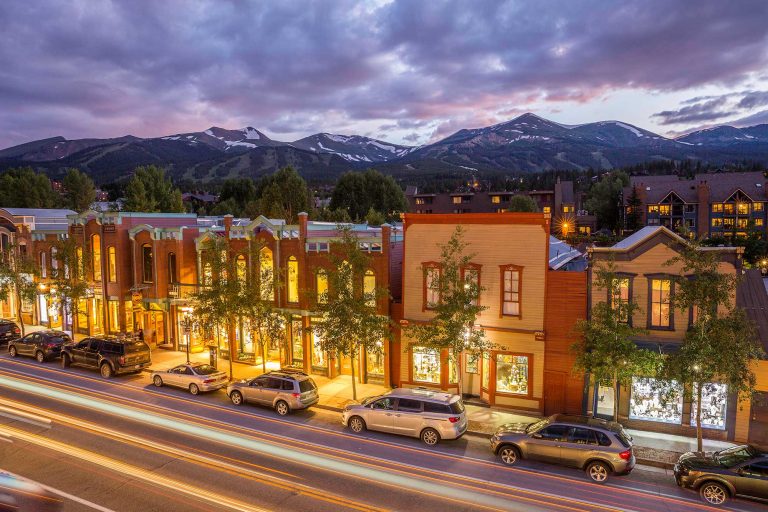 Embrace The Spirit
BLike Breckenridge™️ is a movement born of the spirit of our historic mountain town for those who call it home—whether for a weekend or a lifetime—to live by. It is a cause that connects us to each other, that we can all be a part of.