Warning:  A Breckenridge hut trip can be addictive! The sense of accomplishment from travelling under your own power through the wintry woods with everything you need strapped on your back could be reward enough. And yet the best part comes when you arrive at a cozy cabin that is outfitted for your comfort; you know you made it safely and now it's time to enjoy quality time with friends and family. Chances are good you'll want to do it again and again.
So, if you're looking for the ultimate backcountry experience, hut trips provide an unique opportunity for backcountry skiing, snowboarding, cross country skiing, snowshoeing, coffee- sipping, book-reading, fire-making, Monopoly-playing and whiskey-drinking—not to mention the most genuine group bonding time that only the internet-less wilderness can provide.
Summit Huts Association (SHA) hosts two and a half cabins in the Breckenridge area that are beckoning you for your next adventure. The hut concept originated in Europe to give over-the-snow travelers secure accommodations in the rugged Alps. Unlike the European model which provides hut keepers, food, and fresh linens, the American model calls for self-sufficiency.
Breckenridge Hut Trip:
Self-Sufficiency Required
To travel to the Summit Huts (or one of the other 70+ huts and yurts in Colorado), most people use either telemark or alpine touring skis and use climbing skins for going uphill. Others use lighter cross-country skis, although that type of ski is not as stable going downhill. Snowshoes are another popular option to travel to the hut.
Lest you think you'll be roughing it, all of the Summit huts have solar-powered lights, propane cooktops in the fully-equipped kitchen, ample firewood, and comfy beds with pillows. Some huts even have indoor composting toilets and wood-fired saunas.
"The huts are so popular because they offer a truly genuine experience," according to Mike Zobbe, Executive Director of SHA.  "You have to behave in a responsible way that is respectful of the people in your group, the hut, and your surroundings, offering a deeper connection to each other and the natural world. It's not a managed experience and no one is there to take care of you like at a ski resort."
For many novices, a hut trip can be one of the most challenging things they've ever done and the hut log books are full of entries relaying their profound relief at arriving at the cabin.
For backcountry skiers, a hut trip affords run after run of untracked powder skiing that only comes from earning your turns.
For families, it is unparalleled together time without the distractions of TV, internet, and electronic devices. Hut trippers who brought their kids to the huts in the 1990's are now bringing their kids and grandkids for multi-generational memory-making. Hut trips are part of their lifestyle.
Summit Huts Association highly recommends guests have a basic understanding of how to recognize and avoid avalanche terrain, carry basic avalanche rescue gear and know how to use it, and understand basic avalanche protocol. Hut-goers ski at their own risk and should be prepared.
The Hut Experience
The hut experience is unique in that guests are responsible for getting themselves to the hut. That means finding routes and being prepared for outdoor travel conditions. Once at the hut, it's all about the honor system. Guests sort out what beds they're going to use and cook and clean up after themselves. Guests are responsible for hauling out all trash and leftovers and leaving the hut clean and stocked with wood and water for the next group. This system works remarkably well, but is totally dependent on folks taking complete responsibility for themselves.
The 10th Mountain Association acts as Summit Huts reservation agent.  In most huts, beds are booked individually. If you do not book the entire hut, you may end up sharing the hut with another party(s). The Summit Huts sleep anywhere from three people at Ken's Cabin to a group of twenty at Francie's and Janet's Cabin.
Francie's Cabin
Located 4 miles south of Breckenridge and 2.5 miles from the nearest trailhead, Francie's Cabin is a great place for a beginner Breckenridge hut trip.  Route finding is straightforward with very little avalanche hazard along the way.
And Francie's is one of the cushiest of the cabins with a sauna and indoor composting toilets, along with solar lights and a fully equipped kitchen (no oven though, forget about baking cookies).  It is popular with families and the kids love to play outside making snow forts and tunnels.  Francie's Cabin sleeps twenty people, so plan to share with others, or rent the whole hut and bring a big group.
Section House and Ken's Cabin
This is where the "half a cabin" comes in.  The Section House is a century-old railroad building on the top of Boreas Pass and the Continental Divide, about 10 miles east of Breckenridge.  It accommodates 12 people with amenities including a wood-burning cook stove with oven, and history oozing out of its hewn log walls. Nearby is intimate Ken's Cabin, perfect for a couple looking for privacy. In fact, its nickname is the "Love Shack." The two huts share the outhouse and route. And neighbors have been known to share cookies or a glass of wine. Ken's Cabin and the Section House are accessible via Boreas Pass Road, about six miles from the nearest trailhead. Although the distance is considerably longer than the route to Francie's Cabin, Boreas Pass Road has no steep pitches, and the route is easy to find along the gentle former railroad grade.
Backcountry Skiing in Breckenridge
Backcountry skiing and snowboarding, also called ski mountaineering, alpine touring or skinning has become a popular way to ramp up aerobic fitness or head into the unmarked and unpatrolled backcountry to "earn your turns" outside of the resort. While Breckenridge is a hub for backcountry exploration, going into the "backcountry" can be extremely dangerous and requires appropriate gear, education and terrain knowledge before stepping a foot on the snow.
Members of Colorado's backcountry winter sports community expect to see an increase in backcountry usage this winter. The Colorado Avalanche Information Center (CAIC) encourages all interested in backcountry recreation to check the forecast and take a field based avalanche course before heading into the backcountry. Your decisions can impact your safety and the safety of those around you.
Volunteering and Summer Access
Hut trips are not just for winter adventures.  Several of SHA's huts are open in the summer for hikers and mountain bikers, including Francie's Cabin and Janet's Cabin near Copper Mountain.
Summit Huts Association is a small organization that relies on volunteers, and volunteer days are available year-round. A winter volunteer weekend can be a great way to become acquainted with the huts and the people who love them.  And volunteers earn free hut nights. Contact SHA for more information on volunteering.
For more information a Breckenridge hut trip and what else to do during the winter, contact the Breck Information Specialists at 877-864-0868. While in town, stop by the Breckenridge Welcome Center at 203 S. Main Street. You can also fill out our activity request form to receive more information or view, download or order the Breckenridge Vacation Planner.
The Breckenridge Tourism Office works to enhance and promote the unique character and experience of Breckenridge as a world-renowned destination resort and to represent, serve and perpetuate the common interest and character of its membership and community.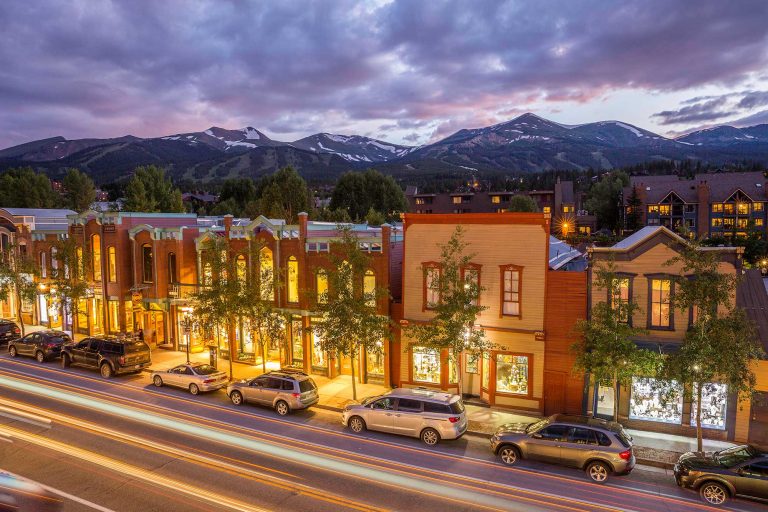 Embrace The Spirit
BLike Breckenridge™️ is a movement born of the spirit of our historic mountain town for those who call it home—whether for a weekend or a lifetime—to live by. It is a cause that connects us to each other, that we can all be a part of.