When the snow melts in Breckenridge, ski trails give way to mountain biking and hiking trails and adventure is in full force. The rivers start to rush, the wildflowers begin to bloom and everyone is outside taking in the 300+ days of Colorado sunshine. Breckenridge summers are about as perfect as you can get.  Discover the top five reasons to visit this summer then start planning to experience them yourself.
1. Perfect Weather
There's a saying you'll hear from many of the locals in Breckenridge, "I came for the winter, but stayed for
2. Tons of Activities
With gorgeous views, wildflowers galore and high alpine lakes, outdoor adventures are seemingly endless. Lace-up your boots to explore hundreds of miles of trails in and around Breckenridge on a hike, or cool off with a day on the water with a guided whitewater rafting trip. Discover 100 things to do this summer in Breckenridge.
If you're here with the whole family,  Breckenridge Ski Resort's Epic Discovery offers activities for every level of adventurer. From scenic chairlift rides to guided hikes, zip-line tours, climbing walls, mini-golf and roller coasters, it's easy to pack your day full of fun at the base of Peak 8 in Breckenridge.
For the history buffs out there, take a guided stroll around town and find yourself submersed in Breckenridge's rich history. The Breckenridge Heritage Alliance offers a number of walking and hiking tours of historic sites and museums surrounding the area, including saloon, ghost, gold panning and snowshoe tours! The Country Boy Mine is another top on our list- head underground for a tour of a real gold mine, pet the burros, slide down the ore chute, visit the General Store and pan for gold at the original mine.
Local's Tip: Don't forget sun protection, a reusable water bottle and extra layers for all your Breckenridge Summer Activities!
3. Alfresco Art, History & Culture
Breckenridge offers plenty of opportunities to explore art, culture and history  while basking in the Colorado sunshine.  History buffs and outdoor enthusiasts will love hiking through mining ruins while learning about different mining techniques and the hardships of living at 9,600ft in the 1800s.  Kids will rejoice in finding their own gold flakes while panning for gold at Country Boy Mine.  Those with a passion for art can sign-up for art classes like plein air painting or tour Breckenridge's outdoor public art gallery.
4. Fields of Wildflowers
You've heard the saying, "April showers bring May flowers," and in Breckenridge, that's just the case. Wildflowers start to bloom in May and June, and usually stick around through July and early August. Breckenridge's combination of late snow-melt, 300+ days of sunshine and high-alpine terrain make Colorado the perfect place for wildflowers to grow.
View the wildflowers while strolling through downtown Breckenridge or take a hike on one of our hundreds of miles of trails in and around Breckenridge.  Remember, even though shortcuts can be tempting, please don't take them. A few extra strides on the path will protect native plants and the homes of the true furry locals. Doing your part will make it a little less challenging to survive at 9600ft. As always, Breckenridge stands behind the Colorado Tourism Office's Leave No Trace – Care for Colorado Principles to help maintain the natural beauty of our trails and forests.
5. Historic Main Street
Main Street Breckenridge is known for its incredible shopping and dining scene, but it also serves as the central hub of everything Breckenridge with fun events, festivals, music, an abundance of activities for all ages and interests happening all year long. The best part is once you park the car or take the shuttle in for your trip you can walk or take the free bus anywhere.  Use your stroll to enjoy the mountain views and take in the historic 19th-century buildings. Explore our favorite Main Street Adventures to discover more activities in-town.
Want to discover more to do in Breckenridge in the summer? Check out our Ultimate Family Summer Guide and be sure not to miss the Best Summer Events! As always, swing by the Breckenridge Welcome Center upon arrival to start planning!
Explore More of Breckenridge
Need More Inspiration?
Build your own itinerary:
The Breckenridge Tourism Office works to enhance and promote the unique character and experience of Breckenridge as a world-renowned destination resort and to represent, serve and perpetuate the common interest and character of its membership and community.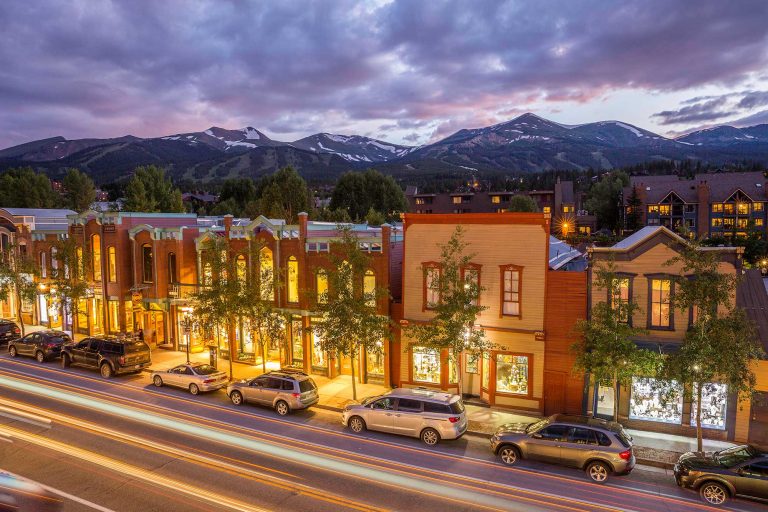 Embrace The Spirit
BLike Breckenridge™️ is a movement born of the spirit of our historic mountain town for those who call it home—whether for a weekend or a lifetime—to live by. It is a cause that connects us to each other, that we can all be a part of.