When the snow melts in Breckenridge, the rivers start to roar. Hiking and biking trails start to peek through the snow, signaling that summer is officially on its way. These moderate south of town hikes offer great waterfall viewing throughout late June, and on through August and September, depending on how much snow we got throughout winter and spring. Strap on your hiking boots; here are three Breckenridge waterfall hikes worth the trek.
3 Must-Hike Breckenridge Waterfalls
1. McCullough Gulch
There are two trailheads you can use to access McCullough Gulch. The newer, lower access parking lot is located about 7 miles south of Breckenridge, on the right side of highway 9 opposite the Lodge by the Blue. From here you can access a beautiful wooded trail, turning into the old road that leads up into McCullough Gulch following the rock-strewn stream. Starting here makes the hike about twice as long.
The other access, a 1.3-mile hike, to McCullough Gulch is at the trailhead at the end of County Road 851 on Hoosier Pass. Take a right on Blue Lakes Road (CR 850), and another right on CR 851. This hike is pretty high in elevation, starting at about 11,000′, so is usually dry by July.
2. Mohawk Lakes
Continental Falls
Continental Falls is the largest waterfall around Breckenridge, tumbling through three chasms in its deeply eroded gully down the rocky face. Over several switchbacks, small side trails lead to the edge of the falls for not-to-miss views of the white water and cliff faces.
This hike is accessed from Spruce Creek Trail, just south of town about 2.4 miles. Opposite the Goose Pasture Tarn, take a right onto Spruce Creek Road (CR800). Follow signs to the main trailhead parking lot, where low-clearance vehicles must park. You can opt for the rough 4wd road and continue another 1.5 miles to park closer.
From the lower parking lot, the hike starts out pretty mellow through a beautiful wooded trail. Once you've made it to treeline, you'll climb the steep switchbacks beside Continental Falls followed by a quaint set of cabins and a view of the falls. It's a good spot to rest before the push to the lakes. Once you've made it to Lower Mohawk Lake, stop for a snack or lunch (remember to pack out what you pack in) and if you're up for it, keep going on to Upper Mohawk Lake (6.7 mi round-trip).
Between the Lakes
Once you crest the hill and see Lower Mohawk Lake at eye level, you'll realize it was worth the uphill slog. Walk around the lake to its other end and find a trail ascending the rock, following the water to the upper lake, the true Mohawk Lake. Spruce Creek churns into a skinny whitewater cascade as it hurls down over the rocks from the upper lake. The Forest Service requests you walk on the rocks here to avoid disturbing the fragile alpine tundra.
This is also a high-elevation area, with the upper lake coming in at around 12,100 feet. In most years the hike clears of snow in July.
3. Blue Lakes - Monte Cristo Gulch
From Blue Lakes Road (CR850), continue straight instead of turning right into McCullough Gulch, and access Monte Cristo Creek. Upper Blue Lake is a reservoir water source for Aurora and Colorado Springs, and the gulch is spectacular. There's more hiking above the upper lake too.Keep your eye out for a small waterfall visible from the road as you drive up through Monte Cristo Gulch. You can explore the Granite cliffs and take in the wildflower meadows between the lakes after parking in the lot below the dam.
Local's Tip: Pack it in, pack it out.
Anytime you are out enjoying nature, it's important to abide by Leave No Trace principles. Remember to pack it in, pack it out always— this includes all trash, waste, gear etc. If you see trash along the trail, pick it up! It is best to leave the trail and the wilderness even more beautiful than when you arrived whenever possible.
Know Before You Go
Anytime you are out enjoying nature, it's important to abide by Leave No Trace principles. Remember to pack it in, pack it out always— this includes all trash, waste, gear etc. If you see trash along the trail, pick it up! It is best to leave the trail and the wilderness even more beautiful than when you arrived whenever possible. Stay on the trail and avoid the side trails or any shortcuts to preserve the natural environment as much as possible while avoiding erosion. You can help us preserve and protect what we love by following Leave No Trace practices during your visit.  Learn more by taking the Tree-Hugger Challenge.

Basic Trail Etiquette
Follow these easy tips and guidelines while out on the trail to respect nature and other trail users.
A hiker going uphill has the right of way.  If you're on a flat section, just be courteous and move to the side allow others to pass.
Greet others with a simple "hello" or a smile when you pass.
Keep conversation volume down to respect nearby trail users and enjoy the quietude of nature around you.
Keep dogs within sight, under control and have a leash handy to avoid and unwanted interactions with other pets, wildlife or trail users.
Stay on the trail. Avoid shortcuts, unless they are official trails. This helps protect the fragile habit, plants and integrity of the natural area.
Yield to bikes and horses, livestock. Technically bikers are supposed to yield to hikers, but usually bikes are moving quickly and it's easy enough to stop and let them pass. When you see horses on the trail, just step to the side and let them pass.
More Local's Tips
Want to make sure you've packed all the essentials? Check out our Summer Packing Guide or prepare for your hike with these handy tips and what to bring from the experts at REI.
Colorado Trail Explorer (COTrex) is a great place to start looking for hikes. Choose your location and all the trails for that area will show up. Star your favorites, get trail info and look at recent photos.
No car? No problem. Carpool or take the bus to many of the Breckenridge trailheads.
On busy days, trailheads can fill up by noon, so head out early- the trail will be less crowded too and you'll miss the afternoon thunderstorms that can roll in by the afternoon.
Know and follow trail etiquette and leave no trace principles. Please pack out your trash, leave the wildflowers for others to enjoy, and give a friendly wave to the other users sharing the trail with you.
New to hiking or mountain biking?  Consider going with a guide or taking a class.  Breckenridge Heritage Alliance offers guided hiking trails that add an educational component to your trip.  Colorado Adventure Guides offer a variety of mountain biking lessons and guided hikes for all skill levels.
With these handy tips, you're well on your way to choosing one or many hiking destinations perfect for you and your group, and you didn't even have to create a matrix diagram to make your decision.
The Breckenridge Tourism Office works to enhance and promote the unique character and experience of Breckenridge as a world-renowned destination resort and to represent, serve and perpetuate the common interest and character of its membership and community.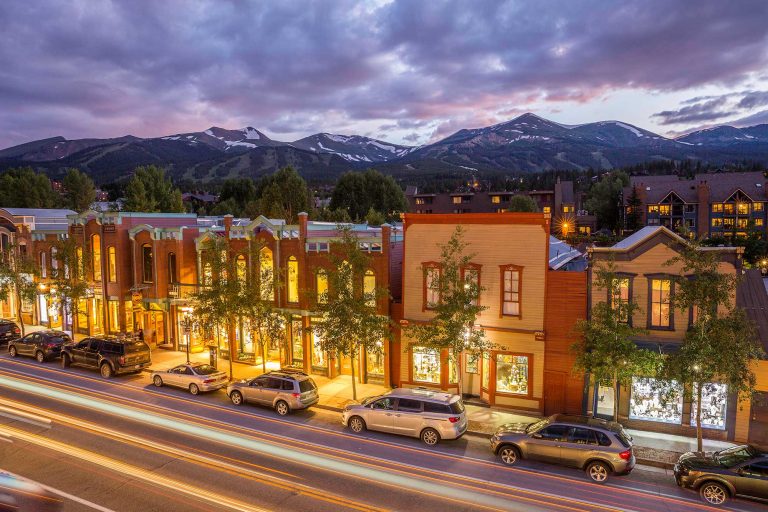 Embrace The Spirit
BLike Breckenridge™️ is a movement born of the spirit of our historic mountain town for those who call it home—whether for a weekend or a lifetime—to live by. It is a cause that connects us to each other, that we can all be a part of.