There's no bad time to visit Breckenridge, but there's something extra special about summer. Bluebird skies and more hours of sunshine create a magical, golden time that begs to be savored. While a check-list of experiences is a fine way to go, why not take a more laid-back approach and carpe solis (seize the sun)? There are plenty of opportunities to get out and soak it up, whether you prefer a paddle or your own two feet. So without further ado, here are some of the best summer activities in Breckenridge.
Take a Hike (or a Bike)
They say that the best views are found at the top. Breckenridge has plenty of biking and hiking trails to get you there. Rent a mountain bike and you can explore a wide network of trails that includes beginner, intermediate and expert rides. Check out Colorado Adventure Guides, Ridden or Breckenridge Resort for bike tours, chairlift hauls and helpful tips if you're not feeling as steady on your wheels. For a more leisurely ride, take the Rec Path and ride as far as you'd like—it takes nine miles to reach Frisco, but the path continues past there, too.
If you'd prefer moving on your own two legs, there's nothing easier than taking a hike. Breckenridge has tons of trails: Some provide a relaxing stroll and others will take your breath away as you climb to the summit. Looking to cut out the uphill? Take a free gondola ride to the base area then enjoy a scenic chairlift ride.
Unwind on the Water
As the snow melts after winter, the waters around Breckenridge get a bit frisky. Enjoy exploring the rivers around Breckenridge with a rafting trip. Choose a half-day or full day tour and be prepared to be thrilled—or simply chill. There are several whitewater rafting companies located in Breckenridge that specialize in float trips that meander down the river as well as more adrenaline-inducing tours that'll take you through Class IV and V rapids. No matter which you choose, there's nothing quite like a day on the river.
Want to be the master of your paddle? Rent a stand-up paddleboard (SUP) or kayak and choose your own adventure. By renting the gear, you can take as long (or as short) a tour as you like and set your own pace. Maggie Pond is a popular SUPing place for beginners; Lake Dillon provides miles of water to enjoy along with plenty of interesting shoreline to explore.
Summer Activities in Breckenridge – Find your Center
Being on vacation in Breckenridge doesn't mean you have to neglect your practice. Breckenridge is home to several amazing yoga studios that offer a wide variety of classes in several different styles, led by world-class instructors. Want to try something a bit different? Take your warrior pose to the water with stand-up paddleboard yoga: the poses are the same, but the challenge is elevated as you concentrate on balance as well as form.
There are plenty of summer activities in Breckenridge that allow you to soak up the marvelousness of the sunny, warm weather. And at the end of your adventure, there's no better place to indulge in a little reward than the many decks and patios. Happy hour is the golden hour in Breckenridge, so grab a pint at Breckenridge Brewery or savor a glass of wine at Blue Stag Saloon. It's a great way to top off another glorious day in Breckenridge.
Be Almost Fearless
The Breckenridge Tourism Office works to enhance and promote the unique character and experience of Breckenridge as a world-renowned destination resort and to represent, serve and perpetuate the common interest and character of its membership and community.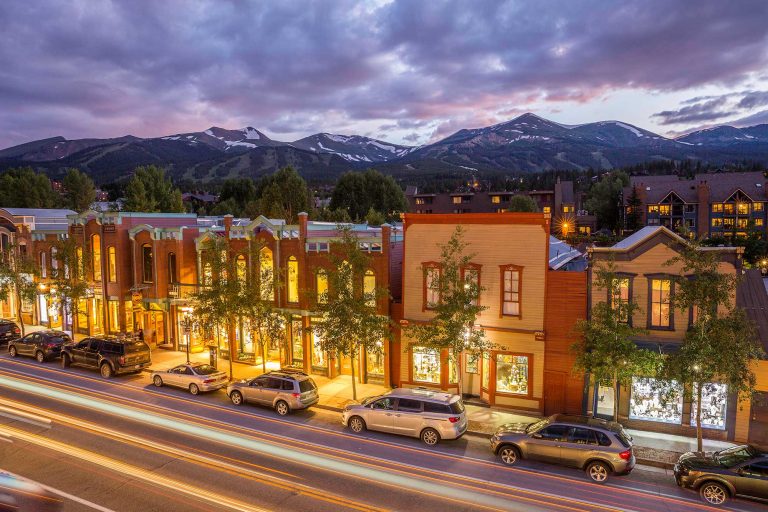 Embrace The Spirit
BLike Breckenridge™️ is a movement born of the spirit of our historic mountain town for those who call it home—whether for a weekend or a lifetime—to live by. It is a cause that connects us to each other, that we can all be a part of.