Fall is eye-candy season in Breckenridge. Yes, nature's colorful artistry makes it such an amazing time to visit.  You'll find plenty of ways and reasons to head outside during fall.  However, the crisp mountain air also makes it a great time to explore Breckenridge's vibrant community and historic charm.  Start planning your itinerary to be sure not to miss the best 50 things to do in Breckenridge this fall!
Top 50 things to do this fall in Breckenridge:
1. Head underground at the historic Country Boy Mine. After the tour, stick around to try your luck at gold panning, geocaching, axe throwing or try their new haunted experience.
2. Walk or hike through history with Breckenridge History and hear tales from the mining era of Breckenridge. 
3. Walk, bike or take the Breck Free Ride to see Isak Heartstone (The Troll) at his new home in Illinois Creek.
4. Take a guided fly fishing tour and explore Breckenridge's rivers.
5. Play a round (or two) at the world's only town-owned 27-hole Jack Nicolaus designed golf course.
4. Grab a pint at the oldest bar west of the Mississippi at the Gold Pan Saloon, then head one room over to sample cheese plates and wines in bottle and on TAP at Carboy Winery.
7. Rent bikes and cruise around town or on the Blue River Rec Path.
8. Catch a flick at Breckenridge's only movie theater, the Eclipse.
9. See if you can spot wildlife like mountain goats and moose (from a safe distance).
10. Watch as fall leaves start to change colors mid-September (Breckenridge is one of the first in the nation to see leaves change).
11. Cruise miles of scenic trails on a mountain bike.
12. Follow "Leave No Trace" guidelines while hiking or biking 100s of miles of trails in and around Breckenridge.
13. Use your mobile device to take a self-guided tour of Breckenridge's Public Art.
14. Visit during Día de los Muertos to take part in BreckCreate's immersive Mexican Day of the Dead festival.  
15. Get your indie film fix at the Breckenridge Film Festival, featuring a four-day drive-in collection of films.
16. Catch the sunset from the best views in Breckenridge.
17. Get spooked at a haunted house or on a ghost tour this Halloween in Breckenridge.
18. Solve a mystery at one of Breckenridge's escape rooms. Choose from alien, bigfoot or wizard themes at Mountain Time Escape Room and Escape Room Breckenridge.
19. Saddle-up for year-round horseback riding to enjoy the fall colors without breaking a sweat.
20. Catch the game at one of the sports bars around town.
21. Feel all the cozy hygge vibes and indulge in seasonal treats and warm beverages at one of our artisan coffee shops.
22. Dust off your lederhosen and make a reservation for Oktoberfest, a culinary dining experience that pairs several-course meals with imaginative libations, showcasing a playful take on traditional German dishes. 
23. Reserve a time to hit the ice at the Stephen C. West Ice Arena.
24. Snag some great deals on ski gear before the season starts at one of our local gear shops.
25. Find your zen in a yoga class.
26. Purchase a one-of-a-kind souvenir at a local art gallery, photo studio, jewelry store or glassblower.
27. Take the Breckenridge Tree-Hugger Challenge.
28. Enjoy a free tasting at the World's Highest Distillery then treat yourself to happy hour or dinner.
29. Spend an evening soaking in the hot tub and watching the stars.
30. Take a stroll down historic Main Street. Keep an eye out for fall necessities like scarves, boots and sweaters at the small shops and boutiques along the way.
31. Take al fresco dining to the next level by exploring Walkable Main Street and enjoy Breckenridge's sun-soaked patios.
32. Take a scenic drive on Boreas Pass through tunnels of golden aspens.
33. Visit the old train Engine No. 9 museum and park on your way up Boreas Pass Road.
34. Erase tension and relax with a spa day, massage or facial.
35. Get craft night delivered to your door through The Frosted Flamingo.
36. Enjoy date night at a romantic restaurant.
37. Fill your sweet tooth to the brim with a stop at Mountain Top Cookie Shop.
38. Have the Mayor serve you a beer at Downstairs at Eric's.
39. Take a fall Fat Bike Brewery and Distillery Tour.
40. Grab your favorite snacks to picnic on the grass by the Blue River at the Riverwalk Center and take in the scenery.
41. Sample fall-inspired beer and cocktails from local brewers and bartenders.
42. Hit the trails on an ATV tour.
43. Treat your four-legged companion to the best day ever with our dog-friendly guide to Breckenridge
44. Indulge in a sweet or savory crepe at one of multiple crepe stands around town.
45. Conduct your own man vs food worthy challenge by heading to Breckenridge Alehouse for the biggest pizza slices you've ever seen.
46. Taste or make your own wine at the Continental Divide Winery. 
47. Take a guided hike to learn about Breckenridge's history, see ghost towns and more!
48. Taste your way through Breckenridge by sampling the best ice creams around town while you window shop.
49. Learn from local artisans by taking a drop-in workshop in Breckenridge's Historic Art District.
50. Get more trip suggestions at the Breckenridge Welcome Center, then tour the museum.
Discover Fall in Breckenridge
The Breckenridge Tourism Office works to enhance and promote the unique character and experience of Breckenridge as a world-renowned destination resort and to represent, serve and perpetuate the common interest and character of its membership and community.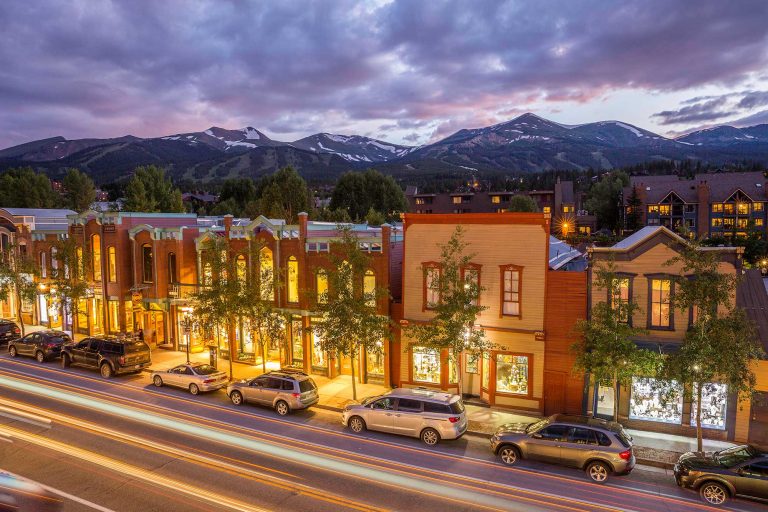 Embrace The Spirit
BLike Breckenridge™️ is a movement born of the spirit of our historic mountain town for those who call it home—whether for a weekend or a lifetime—to live by. It is a cause that connects us to each other, that we can all be a part of.