During a Breckenridge summer, your favorite mountain views somehow become even more breathtaking. And there are more summer activities to choose from than you could ever fit in one trip. Ask most Breckenridge locals and they'll tell you they came here for the winters, but they stayed for the summers. There's no denying summertime in Breckenridge is unlike anywhere else. With amazing access to endless outdoor adventures, festivals dotting the calendar, and temps as close to perfect as you can imagine, this is paradise, as far as we're concerned. We invite you to tag along with us and you'll be back. Discover all there is to do this summer in Breckenridge, Colorado.
Top Summer Activities in Breckenridge, Colorado
Summer Activities
HIKING
Breckenridge boasts hundreds of miles of trails to choose from that offer an amazing variety of scenic beauty that can be enjoyed by everyone. From gentle paved paths winding along the scenic Blue River to extreme hikes up some of the highest mountains in the area, Breckenridge is the perfect place to find hiking for all tastes and abilities.
BIKING
Breckenridge is a mecca for bikers of all kinds. From road bikers to mountain bikers to cruisers and everything in between. Discover the seemingly endless trails and paths for every level of rider and get ready to take in the views on two wheels. Rent gear, bring your own, or even try a guided brewery tour!
WHITEWATER RAFTING
Some of the country's best whitewater rafting is available just a short drive from Breckenridge. Rafting is available late spring through fall, and there are many options based on scenery preferences, activity level, what type of group you'll be bringing and how long you want to be on the river. Check out our tips for how to make the most of your whitewater rafting trip!
SUMMER DOG SLEDDING
If you are ready for a hands-on, breathtaking adventure, summer dog sledding with Snow Caps Sled Dogs is the trip for you! You are the guide as you mush your own team of dogs across meadows covered in wildflowers and backcountry trails. The dogs are friendly, well-trained and socialized—not to mention extremely fit and fast! Dog sledding is a perfect choice for animal lovers who want an extra boost of adrenaline and adventure.
FLY FISHING
When the ice melts, it's time to get your reel and waders and head into the rivers and lakes in and around Breckenridge. While you can fly-fish year-round in Breckenridge, there's nothing like a warm, sunny day on the river. If you have your own gear, just make sure you have a Colorado fishing license and you're all set! If not, rent some gear or take a guided tour with one of the many local fly-fishing shops.
GOLF
Breckenridge is the only municipality in the world that is home to a Jack Nicklaus-designed, 27-hole course. The Breckenridge Golf Club ranks in at #25 in Golfweek Magazine's "Top 50 Municipal Courses," and golfers of all skill levels are encouraged to play on this world-class course. Plus, a golf ball flies farther and straighter at higher elevations than at lower ones… so come give your game a shot at 9,500 feet!
PADDLEBOARDING

Stand-up Paddleboarding (SUP) is becoming one of the hottest summer activities, and for good reason! Whether it be your daily workout or a way to relax, SUPing is a great way to enjoy some Colorado sunshine. Try padleboarding on one of the local lakes or sign up for SUP yoga on the Maggie Pond in town!
HORSEBACK RIDING
Transport yourself back into a time gone by and experience horseback riding in Breckenridge. Choose from trail rides through forested trails or enjoy an open meadow with endless views.
ZIPLINING AND EPIC DISCOVERY
Take a ride on our free, scenic gondola to the base of Peak 8 where you'll find fun for all ages at Epic Discovery. Try ziplining, mountain biking, mini golf, bungee trampolines, the alpine coaster, gemstone panning, scenic chairlift rides, a climbing wall, Colorado's largest human maze and more!
EXPLORE MORE SUMMER ACTIVITIES
The list of what to do in Breckenridge during the summer is long.  We encourage you to experience a new activity, discover a new trail, make a new friend and enjoy all the little adventures that turn into big memories. Start planning your itinerary using our top planning resources.
Summer Festivals and Events in Breckenridge, CO
Festivals & Events
INDEPENDENCE DAY CELEBRATION
Each Independence Day, we kick off the Breckenridge 4th of July party with a 10K trail run, followed by the Firecracker 50 mountain bike race and Main Street parade. Family activities, live music and art festivals are not to be missed!
BRECKENRIDGE SUMMER BEER FESTIVAL
The Breckenridge Summer Beer Festival features 40+ breweries, live music, a VIP area and wonderful food and retail vendors. Enjoy a weekend of playing outdoors and a Saturday afternoon of beer tastings from some of Colorado's finest breweries and other breweries from around the world!
BRECKENRIDGE FOOD & WINE FESTIVAL
The Breckenridge Food and Wine Festival brings you a unique, wine-tasting experience. Main Street Station Plaza and The Village at Breckenridge, (at the base of Peak Nine), transform into a beautiful, mountain-side vineyard starring an array of varietals created by top wineries. From the soft and smooth to the unabashedly bold, guests will get more than their fair share of delicious sips and bites.
BRECKENRIDGE INTERNATIONAL FESTIVAL OF ARTS
A celebration of adventure, play and creativity, the Breckenridge International Festival of Arts (BIFA) is a 10-day program of extraordinary events in spectacular places and spaces across Breckenridge. Inspired by themes of environment and mountain culture, this multi-arts festival brings together a variety of performances, exhibitions, screenings, workshops, talks, and surprise collaborations, with an eclectic mix of music, dance, film, visual arts, open-air spectacle and family entertainment.
BRECKENRIDGE HOGFEST: BACON AND BOURBON
Bacon is the most loved food in the universe so it's only natural Breckenridge would hold a festival around it. Add in the quintessential American liquor, bourbon; mind blown. These indulgences come together for Breckenridge Hogfest: Bacon and Bourbon.
LABOR DAY WEEKEND
Enjoy beautiful autumn temperatures and exciting Labor Day Weekend events like the Summit Foundation's Great Rubber Duck Race, the annual Sidewalk Sale, the Gathering at the Great Divide Arts Festival and more. With so much going on, you'll need an extra day to experience it all.
COMMUNITY EVENTS AND HAPPENINGS
There's always something going on.  View our community event calendar for recreational and historical events, daily activities, happy hours, dining specials, live music and entertainment.
Where to eat, drink and shop in Breckenridge, CO
Eat, Drink, Shop
There are so many places in Breckenridge to cheers. Breckenridge's culinary scene has exploded in the past few years and dozens of new restaurants are claiming local status. Whether you're in the mood for Italian, Asian, Mediterranean, French, Indian, or just some good ol' fashion American BBQ, Breckenridge has some of the best foodie favorites to cater to your taste buds. Bringing the family to Breckenridge? Have no fear! Breckenridge is chalk full of family-friendly restaurants.
Breakfast
TOP COFFEE SHOPS
Breckenridge has quite the culinary reputation, and its cafe scene is no exception. If you're looking for some of the best hand-baked goodies and steamy lattes, our Breckenridge coffee shops guide will help fuel your caffeine needs.
LUNCH & DINNER
RESTAURANTS THAT BRING DINING TO THE NEXT LEVEL
We love our pizza, and let's face it, a heaping plate of ooey-gooey nachos (with a cold beer, of course) tastes great after a long day in the backcountry. But as both locals and visitors seek out more refined meals, restaurateurs have responded. The best part? Upping the ante has not meant upping the attitude. Try these 10 restaurants in Breckenridge for top meals blended with Breckenridge's laid-back atmosphere.
NEW RESTAURANTS IN BRECKENRIDGE
Over the past couple of years, this town has transformed into a culinary hot spot featuring worldly inspired cuisines and fresh takes on culinary classics. The new restaurants in Breckenridge are a direct reflection of this transformation. Discover the new and trending restaurants Breckenridge has to offer!
BEST RESTAURANTS FOR DATE NIGHT
No matter the time of year, Breckenridge is the perfect town to spark the romantic spirit. Enjoy the top five most romantic restaurants in Breckenridge.
BUDGET EATS IN BRECKENRIDGE
Here are our favorite budget eats for a wallet-friendly meal for when you're out with friends and are craving an easy, but still incredibly tasty, breakfast, lunch or happy hour.
HIDDEN BRECKENRIDGE BARS, LODGES AND LOUNGES
Tuck away to one of these off-the-path nooks for a side of solitude- here are the local's favorite hidden Breckenridge bars, lodges and lounges.
BEST RESTAURANTS FOR FAMILIES
Dining out with kids on vacation can be a challenge. Roadblocks like long waits, tired and impatient children and limited menus up the family's anxiety factor. We did the heavy lifting for you and found all the places in Breckenridge where it's easy to please even the pickiest of eaters with a smile… and sometimes an ice cream cone.

Alfresco Dining and Happy Hour
BEST PATIOS AND DECKS IN BRECKENRIDGE
Our Colorado mountain town is graced with 300+ days of glorious mood-boosting sunshine a year, and if there's anything locals love more than playing hard, it's logging solid lounge time on sun-soaked patios and decks in Breckenridge. We're here to give you the inside scoop on what patios and decks our locals love and visitors come back for.
BEST SPORTS BARS
Sports are part of the American culture, and we know whether you live in Breckenridge or you are on vacation, there isn't a chance you're missing your favorite teams play. Within the 100 plus bars and restaurants in Breckenridge, we've created a top 10 list of Breckenridge's Best Sports Bars to get your game on.
BEST APRÉS LOCATIONS IN BRECKENRIDGE
Usually reserved for post-ski beverages, Breckenridge's laid back vibe and dedication to a celebratory beverage make it a term you'll hear year-round. Get ready to raise a glass for happy hour at one of the top apres bars in Breckenridge.
TOP BARS FOR WINE LOVERS
Breckenridge speaks the language of wine whether you are looking for a flight, a quartino, a jeroboam or a vintner. Wine lovers will find plenty to love in Breckenridge with offerings that include locally crafted blends, and even wines on tap! Here are some suggestions for your Breckenridge wine adventure.
TOP 5 HAPPY HOUR MARTINIS
With so many options for a Breckenridge martini, settling on a place to go for a happy hour martini may just be the toughest decision of your day. Lucky for you we have tried them all and while this isn't by any means a complete list, it is a collection of some of the best martinis in Breckenridge.
Shopping
A new generation of artists, craftspeople and entrepreneurs are transforming the shopping scene in Breckenridge, Colorado into a locally sourced and created mecca for goods, gear and Pinterest-worthy goodness.
MADE IN BRECKENRIDGE GOODS AND GEAR
The craft movement is alive and thriving in Breckenridge as more locals are sharing their talents, spinning side hustles into full-on artistic entrepreneurship. We're hollering back to the days where handcrafted outweighs big box. Discover born-in-Breckenridge experiences and products that continue to shape our community.
MOST UNIQUE SHOPS AND OWNERS
Is it possible that Breckenridge has the best toy store and the best bookstore in Colorado? How about the best original children's clothing? Or most unique ski shop? One thing's for certain, Breckenridge shops are anything but routine. These small business owners came to Breckenridge to ski and snowboard and found success in retail business by caring as much for their customers as for their lifestyle.
Arts, Culture and History in Breckenridge
Arts & Culture
Breckenridge Arts District
Steeped in culture and heritage, the Breckenridge Creative Arts District provides a unique mix of artistic and creative opportunities for people of all ages and interests. Established in 2014, BreckCreate supports and promotes arts, culture, and creative experiences throughout the town. Stop by to tour historical arts facilities, take part in their creative workshops or attend a live performance. Don't miss their drive-in movies happening all summer long!
HISTORICAL TOURS AND MUSEUMS
Take a guided stroll around town and find yourself submersed in Breckenridge's rich history. The Breckenridge Heritage Alliance offers a number of walking and hiking tours of historic sites and museums surrounding the area, including saloon, ghost, and snowshoe tours! Stop by their desk in the back of the Welcome Center to book your group's tour today.
Music
NATIONAL REPERTORY ORCHESTRA

For more than 50 years, the National Repertory Orchestra has played an important role in preparing young musicians for careers in the orchestra world, while delivering outstanding musical performances for residents and visitors in Summit County.  Today the NRO has achieved unparalleled success and is at the forefront of the nation's summer music festivals.
THEATRE, FILM and VISUAL ARTS
BRECKENRIDGE CREATIVE ARTS
From quality performances, visual arts, workshops and classes, interactive festivals, historic tours and more, the Breckenridge Creative Arts is a transformative force with a full lineup of opportunities to tap into any day of the week.
BRECKENRIDGE BACKSTAGE THEATRE
Breckenridge Backstage Theatre is the resident theatre company of the beautiful Breckenridge Theater, a newly renovated 137-seat theater located in the heart of historic downtown Breckenridge. Buy seats to a drama, comedy or family-friendly theatre production.
BRECK FILM FEST

The Breck Film Fest delivers compelling film experiences year-round through Summit Film Society and through an annual festival. Held in September, the festival celebrates the art of film-making with a diverse selection of filmmakers gathered from around the globe to engage and inspire with their unique storytelling.
WORKSHOPS AND CLASSES

Between Colorado Mountain College, the Breckenridge Arts District, and the Breckenridge Recreation Center, Breckenridge offers a variety of classes and workshops for nearly every arts and culture interest. And, they just keep adding more. Find drop-in workshops and classes during your trip to Breckenridge.

What to do with kids in Breckenridge during the summer
Family-Friendly
TOP FAMILY DINING LOCATIONS
Dining out with kids on vacation can be a challenge. Road blocks like long waits, tired and impatient children and limited menus up the family's anxiety factor. We did the heavy lifting for you and found all the places in Breckenridge where it's easy to please even the pickiest of eaters with a smile… and sometimes an ice cream cone.
FREE ACTIVITIES FOR FAMILIES
In Breckenridge, free fun is our favorite kind of fun. Because it means tapping into natural resources unfolding across a bounty of mountains, trails, parks and rivers and playing in the fresh high country air. Breckenridge makes it easy to rely on Mother Nature for a good time. Here's where to start on free things for families to do in Breckenridge.
BEST THINGS FOR TEENAGERS TO DO IN BRECKENRIDGE
When you travel with family to the mountains, you want to make sure everyone from the toddler to grandpa has an unforgettable time. For the teen set, Breckenridge activities are as wide-ranging and diverse as teens' personalities and interests.  Get ready for adventure with our summer and fall activity list curated just for teens.
ULTIMATE FAMILY GUIDE TO BRECKENRIDGE
With warm (but not hot) days, incredible views, and tons of activities and events, Breckenridge is sure to be the perfect destination for you and your family this summer. While picking out what to do and keeping all family members happy can be tricky, if you've got kiddos in tow, we've got you covered. Let this family guide to Breckenridge help you find the best summer adventure for the whole crew.
KID-FRIENDLY MOUNTAIN BIKE TRAILS
It's probably no surprise that Breckenridge is one of the top mountain bike destinations in North America.  But what might surprise you is how many of those trails offer kid-friendly mountain biking options too. These easily accessibility trails offer both local and visiting parents a chance to get their kids out on bikes and playing on dirt right from town!
TIPS FOR HIKING WITH KIDS
The greatest way to impart wonder and wanderlust in younger family members is to get them out on the trail. Hiking with kids can add a whole new layer of fun and excitement to your favorite activity. Give your kids the ultimate Colorado hiking experience with these tips to go hiking with kids.
Planning tips for visiting breckenridge, Co this summer
Trip Planning Tips
KNOW BEFORE YOU GO
You love to be an adventurist – but are you a responsible one? You know: Give more than you take? Embrace Mother Nature? Now you can find out with this short interactive  Tree-Hugger Challenge.
6 PLANNING TIPS FOR YOUR TRIP

It can be confusing to know what you need to plan out before your trip vs what you can wing / find to do while you are here. Make the most of your time in Breckenridge with these expert trip-planning tips and tricks.
WILDLIFE GUIDE TO BRECKENRIDGE

Help us care for Colorado by practicing responsible tourism not only for the safety of our environment and its creatures, but also for us and generations to come. Here's our guide to common Breckenridge Wildlife and tips on how to coexist with them safely.
BEGINNERS GUIDE TO HIKING

Breckenridge is at the center of an incredible trail network with options for new hikers, families and experienced mountain climbers alike. With so many trail options, it can be hard to know where to start so we created these hiking guidelines to help you get out on the trail and enjoy the view.
5 TIPS FOR TRAVELING WITH A GROUP

In Breckenridge, "the more the merrier" is a given. Festivals, holidays, concerts, dinners, outdoor adventures—everything is just better when shared with your favorite people.  Here are our top 5 tips for successfully traveling with a group—we're talking 8 or more people—in Breckenridge.
Getting to Breckenridge, CO and Getting Around
Getting to Breckenridge is easy and convenient, whether you choose to fly and shuttle-it to town, or opt to drive yourself from your hometown. Once you're here, you'll find it's easy to go carless with all the free transportation options and easily walkable town. Breckenridge's shuttle and transportation systems will help any visitor make the most of their trip.
GETTING TO BRECKENRIDGE & GETTING AROUND ONCE YOU'RE HERE
Getting to and around Breckenridge is easy and convenient, due to free transportation options and our easily walkable town. Breckenridge's shuttle and transportation systems will help any visitor make the most of their trip. Here're the ins and outs on how to get around town and make the most of the Breckenridge transportation services available.
NO CAR, NO PROBLEM: WHY YOU DON'T NEED A CAR IN BRECKENRIDGE
Going carless at 9,600 feet is a great way to get out from behind the wheel and tap into a mountain experience on foot, bike, shuttle or public transportation. The Town of Breckenridge has been hard at work increasing the walkability of our town with new LED lights, a re-designed Riverwalk pedestrian experience and heated sidewalks so that you can enjoy our beautiful town by foot.
HIKING IN BRECKENRIDGE WITHOUT A CAR
You don't need a car to hike some spectacular trails in Breckenridge. Free public transportation can whisk you to many popular trailheads to make hiking in Breckenridge without a car simple and easy.
The Breckenridge Tourism Office works to enhance and promote the unique character and experience of Breckenridge as a world-renowned destination resort and to represent, serve and perpetuate the common interest and character of its membership and community.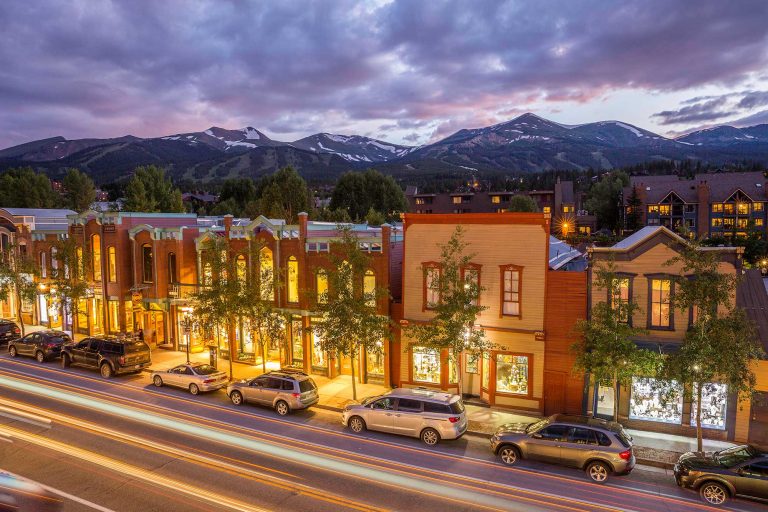 Embrace The Spirit
BLike Breckenridge™️ is a movement born of the spirit of our historic mountain town for those who call it home—whether for a weekend or a lifetime—to live by. It is a cause that connects us to each other, that we can all be a part of.