Breckenridge in Colorado is steeped in culture and heritage. With a dozen galleries, a nationally recognized Historic District and more than 100 restaurants to choose from, it's the perfect destination for couples. Aside from its huge range of summer outdoor activities which include hiking, biking, whitewater rafting and fishing, our town has plenty to offer those looking for a unique holiday this summer. Therefore, we've put together an Adults Guide to Breckenridge to help you maximize your time.
Adults Guide to Breckenridge:
Arts & Culture
Breckenridge has a growing art scene and is a year-round destination for those interested in arts & culture. Home to generations of artists, the community of Breckenridge embrace individual self-expression and cultural exploration.
Its new Arts District campus offers numerous classes, from drawing, to dance and jewellery making – there's a class to suit everyone. If you prefer gallery hopping, make your way to Breckenridge's Main Street to visit its contemporary, fine art and photography galleries.
Other available activities include guided historic tours, or if you're feeling brave, haunted tours and cemetery walks!
Wellbeing & Pampering
There's nothing more relaxing than unwinding at one of Breckenridge's world-class spas. Whether you're in need of a therapeutic massage after a busy day of outdoor activities, or you just fancy a romantic couples' treatment, make your holiday even more memorable by being pampered.
Breckenridge's 15 spas have a wide range of options including cleansing and detox therapy, body wraps or a simple manicure and pedicure. You can also select a spa with an atmosphere which suits you, from a cosy mountain retreat to a romantic boutique-style spa.
Shopping
If shopping's your thing, you're in luck! With more than 100 shops, Breckenridge's colourful Main Street is perfect for picking up keepsakes and purchasing locally made goods. Our picture-postcard shops offer jewellery, antiques and clothing – including local brands. Why not support local businesses and embrace Breckenridge's laidback mountain style at the same time?
Dining
Breckenridge has a fantastic food scene and many of the town's restaurants reside in beautiful historic buildings. Sample beer which has been brewed locally at the Breckenridge Brewery and take a culinary trip around the world… The town is home to restaurants that serve food from almost every continent and with more than 100 eateries to choose from, you'll be spoilt for choice!
If you're craving a sweet snack in the afternoon (time for tea, anyone?), visit one of Breck's local coffee houses, bakeries or ice cream parlours.
These examples are just a taste of the things to see and do in our mountain town. If you appreciate great food, incredible scenery and the arts, plan a visit to Breckenridge for your next couple's getaway!
The Breckenridge Tourism Office works to enhance and promote the unique character and experience of Breckenridge as a world-renowned destination resort and to represent, serve and perpetuate the common interest and character of its membership and community.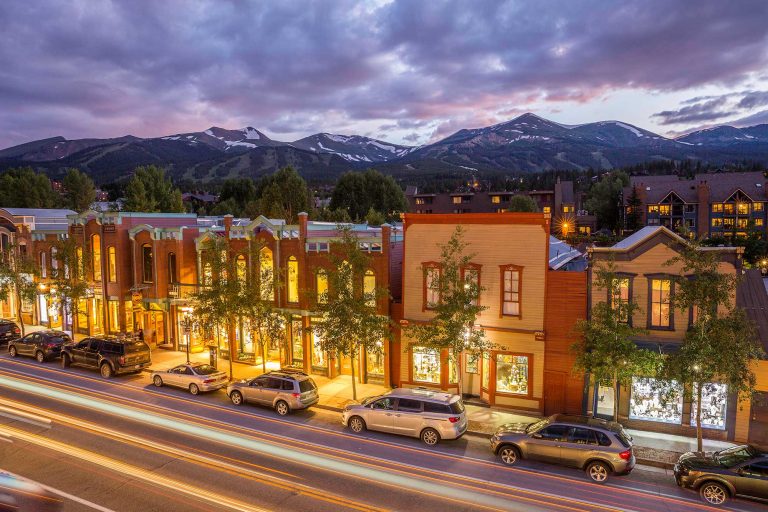 Embrace The Spirit
BLike Breckenridge™️ is a movement born of the spirit of our historic mountain town for those who call it home—whether for a weekend or a lifetime—to live by. It is a cause that connects us to each other, that we can all be a part of.