Your Complete Breckenridge Nightlife Guide
Dancing, live music, games, craft cocktails and much more comprise the after-dark party lineup. All of your top picks are within walking distance in buzzing downtown Breckenridge. Match your mood to the following Breckenridge nightlife scenes and hit the town!
For the Craft Cocktail Lover
Does smoke drifting from your rocks glass excite you? Do you seek out exotic global flavors and bartenders who double as mad scientists? Then these are the barstools for you.
Modis
The menus at contemporary favorite Modis are awash with innovative gems and spins on old timey classics. Pull up a chic chair and chat through tempting concoctions with professional mixologists. Try the Vieux Carre, French 75 or the Old Fahion (yep, that's how they spell it at Modis) with bourbon, cherries, orange and bitters and a little sorcerous smoke.
Ember
New American cuisine steeped in worldly influences is the draw at Breck's stylish special occasion spot. Sip famous Ember martinis like the jalapeno-infused passion fruit Sexy Woman or the gin and Earl Grey Snow Capped Peaks.
The Briar Rose
Belly-up wild west style, among taxidermy and white tablecloth service, in the saloon at the Briar. The landmark Breckenridge restaurant has perfected the stiff cocktail with its basil-tinged Blackberry Briar and spicy White Flame. Ask about the barrel-aged cocktail of the moment.
Après Handcrafted Libations
Call on the stealth bartenders at Après for memorable inventions employing hand-squeezed juices, housemade syrups and bitters and the finest craft spirits. Kick back and play board games while sipping sweet cups of Notcho Granny's Peach Pie, a rum-based treat with Palisade Peach Tarragon syrup.
Breckenridge Distillery
The world's highest distillery has flourished into a coveted mountainside tasting room and bar alongside a celebrity-chef-run restaurant. Begin your visit with a free behind-the-scenes tour while sampling award-winning bourbon, vodka and gin and then settle in for a signature mule or Breckenridge Bourbon flight.
Rocky Mountain Underground
Located on Main Street, you'll now find two buildings side-by-side complete with an extensive beer and cocktail list in homebuilt bars. But not only do they serve up libations, the RMU community hosts home to everybody who loves the mountains. Whether you're after a new pair of world-class skis, maintenance for your bike, or a cold beer, go say hello!
For the Dancing Queen
When you just need to cut loose and leave it all out on the dance floor, these bar and pub scenes bring the heat.
The Gold Pan Saloon
Bust out your best moves on the Gold Pan's small but raucous dance floor. Thirsty miners, trail-worn skiers and curious visitors have been swilling brews and whiskey at this 19th century watering hole since 1879.
Cecilia's Martini Bar & Nightclub
Three bars, a patio, a humidor, a large dance floor and stage make Cici's—as regulars affectionately call it—the late-night DJ-driven place to get down. Don't miss the infamous dance pole.
Burke & Riley's Irish Pub
Technically, Burke's is not a dance club. However, the post-sunset patio crowd has been known to spark sing- and sway-alongs around the fire pit. In a nod to its Emerald Isle roots, the whiskey, fish and chips and full lineup of Irish classics flow freely throughout the night.
For the Live Music Fan
There's no shortage of musical talent playing to loyal fans around Breckenridge. Rock, country, jam bands and beloved 80s cover ensembles all have a home on these stages.
The Riverwalk Center
See big-name national acts, Colorado favorites, orchestra performances and more at this modern 750-seat venue along the Blue River in the center of town. During summer performances, the garage doors roll up and tunes spill out onto the lush lawn.
Breckenridge AirStage
Let the good times roll! Breckenridge Music takes concerts outside, on the road and into your neighborhood with its new mobile stage, the Breck Music AirStage (a retrofitted 1975 Airstream Ambassador Travel Trailer) to accommodate a 14.5-foot wide by 9-foot deep stage. Performances at the AirStage will include neighborhood concerts, family-friendly pop-ups, artist residencies and special donor events as well as programming that supports Breckenridge Music Festival.
The Blue Stag Saloon
After the dinner crowd trickles away, cozy into the mountain cabin ambiance—complete with recycled beetle kill wood ceilings, barn wood walls and indoor and outdoor fireplaces—for some locally made live music. Watch the Blue Stag's Facebook page for show announcements.
Napper Tandy's
This laid-back unpretentious go-to knows how to throw a party. Pre-show, watch your college team on TV and nosh on Napper's artichoke dip and wings. Be sure to catch The 6 Million Dollar Band for a costumed rager set to 80s new wave dance hits.
Check out more live music venues and locally loved bands.
For the Gamer
Catch up over a little friendly competition or open mic session and have a chill night out with these low-key Breckenridge nightlife options.
Brooklyn's Tavern & Billiards
This local, laid back hot spot is the perfect place for, you guessed it, billiards and beer. Come early to snag a pool table, or stay late for weekly DJs and movie premiers. Grab your friends and be sure not to miss bubble hockey, foosball, pinball and buck hunter too.
The Motherloaded Tavern
Alongside The Motherloaded's creative homecookin'—think chicken and waffles and family recipe meatloaf—you'll find a full events calendar stacked with live music, DJ-spun karaoke, open-mic and trivia nights.
Mi Casa
Football fans will want to head to the spacious cantina at Mi Casa for specials and NFL action on seven big screens. Play football bingo on Thursday nights and spin the wheel of prizes while snacking on $6 wing baskets and $3 Mexican brews.
Broken Compass Brewing
Pull together a brainy, witty, worldly team for Tuesday night taproom trivia at Broken Compass. The top three teams earn prizes and everyone walks away a winner having sampled the neighborhood brewery's popular ales, nitros, IPAs and sours.
Rita's
This basement taco and hand-squeezed marg joint turns into a boisterous battle of the minds as teams vie for free bar tabs and bragging rights during Thursday night trivia.
Remember to leave your car at home to enhance your stress-free vacation. Everything is centrally located for you to enjoy free public transport around town. Be safe. Be responsible. And have fun!
Bring the whole crew for an ultimate Breckenridge Man-Cation or Girl's Getaway, and if you're into a calmer scene, check out our Low-Key Nightlife Guide.
The Breckenridge Tourism Office works to enhance and promote the unique character and experience of Breckenridge as a world-renowned destination resort and to represent, serve and perpetuate the common interest and character of its membership and community. Lisa Blake is a regular contributor. The Breckenridge-based freelance writer, editor and mom enjoys researching and sharing stories on health, wellness, dining and the outdoors. Find her work in Breckenridge Magazine, The Purist, 5280.com, and at lisablakecreative.com.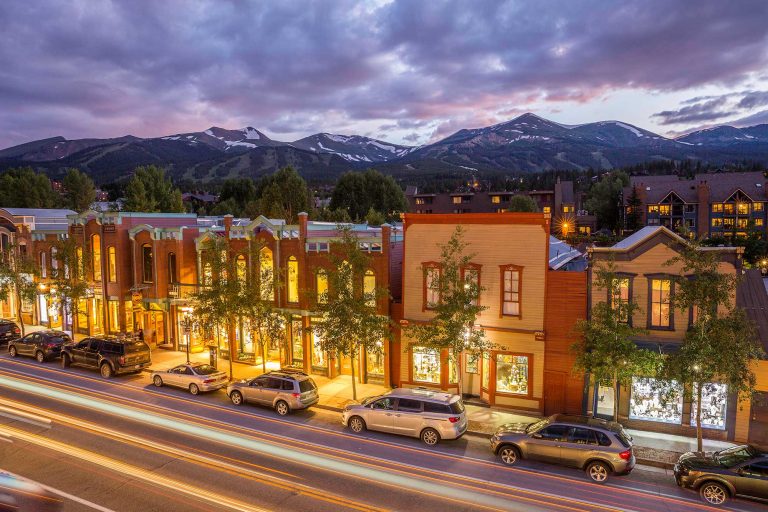 Embrace The Spirit
BLike Breckenridge™️ is a movement born of the spirit of our historic mountain town for those who call it home—whether for a weekend or a lifetime—to live by. It is a cause that connects us to each other, that we can all be a part of.