In Breckenridge, we're all about reducing our carbon footprint and consciously taking good care of this beautiful place we call home. We work hard to make recycling accessible, carry reusable water bottles and grocery bags and generally think green.
Here are a few really cool ways we're making a mindful impact in Breckenridge.
Carless in Breckenridge
Going carless in Breckenridge is easy and highly recommended. Take advantage of our free countywide transit system. Trolleys and lodging shuttles get you from your rental to shops and restaurants and the BreckConnect Gondola is a swift and free ride from town to the base of the ski resort. Bonus: The Breck Free Ride bus system just added new zero-emission electric buses to its fleet.
Green Lodging
The High Country Conservation Center is helping hospitality businesses clean up their acts, assisting with waste management plans, energy-efficient lighting and earth-friendly cleaning products. Ski Village Resorts is a certified Sustainable Breckenridge business. Paragon Lodging provides guests with compostable pet waste bags and uses CFL bulbs in rental homes. Breckenridge Grand Vacations manages a handful of large properties around town and recycles soap and amenities by melting, blending and reconstituting them for children in third-world countries. Ask your lodging provider about recycling and composting opportunities, access to bus and trolley routes and green initiatives like chemical-free cleaning products and linen washing practices.
On the Trail
The Summit County Open Space and Trails Department has protected over 17,300 acres of land as open space through 332 acquisitions and dedications, working with over 200 landowners. An impressive 2,680 volunteer hours were contributed to county open space and trail projects in 2018, with an estimated monetary value of $61,908. Learn more and join volunteer crews.
Epic Promise at Breckenridge Ski Resort
Breckenridge Ski Resort welcomes millions of visitors each year and holds a deep commitment to responsible hospitality. Through its Epic Promise program, the resort instituted a water-saving master drainage plan, wetlands restoration efforts, and have cut energy consumption across snowmaking, food and beverage, grooming and lift operations. The resort also offers free on-mountain guided naturalist tours through the Friends of the Dillon Ranger District Ski with a Ranger program.
Sustainable Community Development
The Town of Breckenridge and the Breckenridge Tourism Office have outlined a 10-year sustainable tourism journey with goals to maximize quality of life for residents and quality of place for visitors. This means a balanced year-round tourism economy, protecting Breck's hometown feel and authentic character, and taking a lead in mountain environmental stewardship and sustainable practices. Big takeaway: More boots and bikes, less cars.
The Town has long subscribed to community solar gardens and in 2017 committed to having all town facilities completely powered by renewable resources by the year 2025 – a goal they plan to complete early.  So early, that the town has already committed to getting the entire town, public and private, completely powered by renewable resources by the year 2035.
Breck's bring-your-own shopping bag and reusable water bottle programs successfully reduce single-use bag and plastic water bottle trash. You'll find 11 water refilling stations around town, along with businesses that will refill water containers upon request. Breckenridge retailers charge 10 cents for single-use plastic bags to discourage their use.
You'll also find that many local restaurants take advantage of composting food scraps and that many locals take advantage of the new composting program as well.
Join us in our community-wide goal of reducing waste by up to 75 percent by 2030!
Learn More About Breckenridge
The Breckenridge Tourism Office works to enhance and promote the unique character and experience of Breckenridge as a world-renowned destination resort and to represent, serve and perpetuate the common interest and character of its membership and community. Lisa Blake is a regular contributor. The Breckenridge-based freelance writer, editor and mom enjoys researching and sharing stories on health, wellness, dining and the outdoors. Find her work in Breckenridge Magazine, The Purist, 5280.com, and at lisablakecreative.com.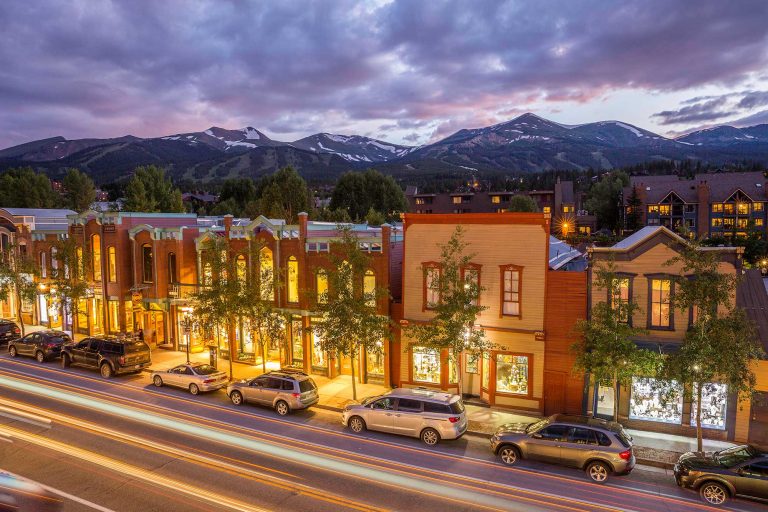 Embrace The Spirit
BLike Breckenridge™️ is a movement born of the spirit of our historic mountain town for those who call it home—whether for a weekend or a lifetime—to live by. It is a cause that connects us to each other, that we can all be a part of.