You're standing on the top of a mountain. The air is crisp, with a soft breeze that embraces your face. All you see is blue and white: a bluebird sky above you and pristine white, silky snow below you. A bird soars through the sky, circling to see your next move. You look around at the beauty and serenity of being above tree line, as you inch towards the edge of the cornice, testing the snow on the expert terrain beneath you. It's perfect: not too firm, not too soft. You flex your knees as you contemplate the moment you will launch down the mountain and you anticipate the soft, supple landing as the phone on your desk rings. WAIT. REWIND. The phone on your desk rings???
Um, you're not on the top of the mountain, you're at work? Bummer. Your office isn't in Summit County? Major bummer. But you're daydreaming of this, aren't you? Luck must be with you, as the best part of the ski season is still ahead at Breckenridge Ski Resort, and you have vacation days that are calling–dare I say, shouting?–your name. And is that a slight sniffle I hear that could warrant the use of your sick days?
If adventure is your middle name and you're ready to go beyond blue trails, never fear.  Breckenridge Ski Resort has lots of expert terrain (black and double black trails) for adventurous skiers and riders that are up to the challenge.
Here are a dozen favorite black/double black trails that can put some excitement into your ski day:
Shock – Peak 9:  As its name suggests, Shock can be, well, a bit of a shock, to your adrenaline system.  This trail is short, sweet, and steep and great for those that like a smooth black trail.
Pika – Peak 8:  Accessed via the T-Bar, Pika is a groomed run that takes you all the way to the top of Peak 8 and back down.
Peerless – Peak 9:  For those who want to ski or ride moguls, fearless Peerless is for you. With a nice wide trail, there is a line for every skier, so give it a whirl.
Centennial – Peak 10: If you're in the mood for a long cruiser run steep enough to be considered expert terrain, Centennial is for you. This trail is accessed via the Falcon Super Chair, near Ten Mile Station Restaurant.
White Crown – Peak 8:  If off-piste is what you desire, look no further than White Crown. Advanced skiers and riders can access White Crown via the T-Bar and will enjoy the natural beauty of Colorado.
Horseshoe Bowl – Peak 8: When friends ask if you're skiing "the Bowl," they usually mean Horseshoe Bowl, which remains a timeless favorite. Horseshoe can be accessed via the T-Bar or by a traverse in from the top of 6 Chair. With wide-open expanses of snow, there is a line for everyone.
Imperial Bowl – Peak 8: Imperial Bowl provides some of the finest terrain and views for both expert and extreme skiing and riding. Those that like traditional bowl skiing will enjoy coming down the middle of the bowl. Those looking for more adventure can take the hike from the top of the Imperial Express Chair and try their skills on one of the Lake Chutes.
Whale's Tail – Peak 8: Whales Tail offers stunning views of, well, just about everywhere; it's also accessed from the Imperial Express Chair, the highest lift in North America. Simply take approximately 10 steps uphill to your left and traverse through the gate. At the top, take a moment to enjoy the views before dropping in over the cornice.
Inferno – Peak 9: A favorite of locals, Inferno is just plain fun for bump skiing. Accessed via E-Chair, follow the signs past Tom's Baby to the entrance of Inferno. Pick your line and light the snow on fire!
Beyond Bowl & Serenity Bowl – Peak 6: Those that like adventure have multiple hike-to terrain choices on Peak 6. Exit the chair and hike up to your left for Serenity or to your right for Beyond. Or have the best of it and do both! You can also take the lazy hike and step just above the Patrol Hut to drop into Beyond Bowl with less than 20 steps of hiking.
But why stop there?  Breckenridge has many more expert terrain trails waiting for you. To really take your game to the next level, check out the Breckenridge Ski and Ride School.  Classes and private lessons are offered for all levels, from beginner to expert. With their help, you could be ready for a double black trail in no time!
The Breckenridge Tourism Office works to enhance and promote the unique character and experience of Breckenridge as a world-renowned destination resort and to represent, serve and perpetuate the common interest and character of its membership and community.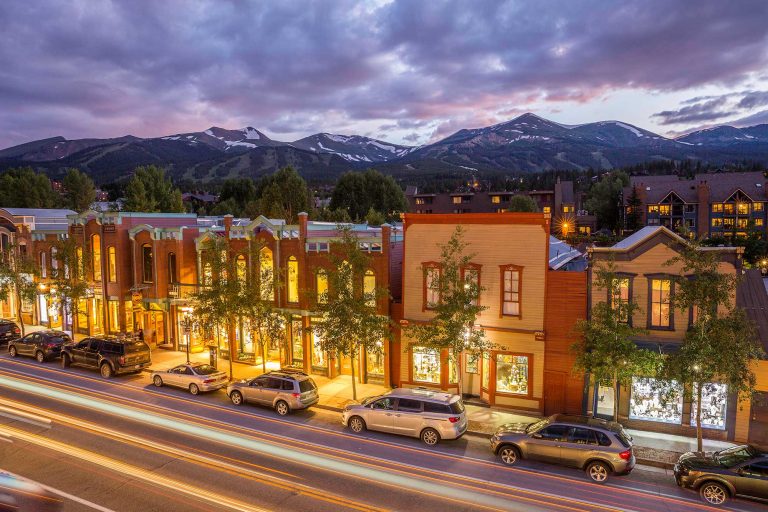 Embrace The Spirit
BLike Breckenridge™️ is a movement born of the spirit of our historic mountain town for those who call it home—whether for a weekend or a lifetime—to live by. It is a cause that connects us to each other, that we can all be a part of.