After a decade in Breckenridge, the Dew Tour, one of the biggest events in all of action sports, has moved to Copper Mountain. While Copper will be the spot to watch the competitions, Breckenridge will still be the place to stay if you're looking to experience the nightlife, entertainment and activities a mountain town can offer. Here are our 7 must-dos for any Dew Tour visitor staying or visiting Breckenridge.
Dew Tour Visitor Must-Dos:
1. Experience Main Street by night
Historic Main Street is the main hub of energy in Breckenridge. Our dining scene explodes with flavor, so expect to find worldly inspired cuisines, a fresh take on culinary classics and plenty of craft beer and cocktails made from our local brewers. Between meals, take a stroll down Main Street to explore local boutiques, gear stores, art galleries, children's shops and everything in between. Our specialty? Providing the latest styles and greatest gear for any outdoor adventure enthusiast. If you're looking to hit the town for a night out, our Dew Tour Nightlife Guide will fill you in on happy hour and late-night hot spots.
2. Take a Ride on the BreckConnect Gondola
No trip to Breckenridge is complete without taking a ride on the free gondola. The main form of transportation between town and the ski resort offers unparalleled views of the Blue River Valley, Cucumber Gulch Wildlife Preserve and the surrounding mountains. See if you can spot some Nordic skiers below you or even a moose! If you've got an Epic pass, be sure to hit the slopes while you're here!
3. Hit the trails
There are more trails than just on the slopes in Breckenridge! We're home to hundreds of miles of trails throughout town and nearby National Forest, and there are at least a dozen ways to explore them. The stunning scenery of white-capped mountains and snow-covered trees can be enjoyed with a pair of snowshoes, cross-country skis, snowmobile, horse-drawn sleigh ride or dogsled team. Learn more about the best winter activities in Breckenridge.
4. Have a beer at one of the two local breweries in town
Breckenridge boasts two local, award-winning breweries: Broken Compass and the Breckenridge Brewery. No trip to Breckenridge is complete without a stop to refuel and unwind. Our favorites? The Chili Pepper Pale Ale from Broken Compass and the Oatmeal Stout from Breckenridge Brewery. Broken Compass even offers a free shuttle for all of their guests to and from town.
5. Experience Breck's Art & Music Scene
Breckenridge has a thriving art community and is packed with artists who find passion in their surroundings – of course, it's not hard to be inspired here.  Take a self-guided walking tour through the art district to see community art and installations or create your own souvenir through a class with BreckCreate. If your interests include listening to the beat, check BreckMusic's concert schedule or plan a night out complete with live local bands. You can also kick back and relax at the Breckenridge Backstage Theatre for a performance or explore the unknown on a ghost or historic tour around town.
6. Get Cozy & Embrace Hygge
Hygge (pronounced HOO-ga) is a Scandinavian word for coziness, comfort and the good things in life that bring about wellness and contentment.  You've likely seen the buzzword blanketing books and articles, on candles, pillows and knitted everything. This warm and fuzzy Nordic notion is about simple pleasures—from sipping tea with an old friend to connecting with your kids over a fairy-tale. While your here, embrace Hygge and cozy up next to the best fireplaces in town, sip hot cocoa or visit the best Breckenridge shops, destinations and experiences to help you tap into hygge this season.
7. Ski/Snowboard at Breckenridge Ski Resort!
The last recommendation on this list is the most obvious one, but it still needs to be emphasized. Breckenridge Ski Resort was the host of Dew Tour for the last decade for a reason: It's one of the biggest and best ski resorts in the country. Boasting five peaks, the tallest chairlift in North America, a record-winning park and terrain for every level, Breckenridge is hard to beat.
The Breckenridge Tourism Office works to enhance and promote the unique character and experience of Breckenridge as a world-renowned destination resort and to represent, serve and perpetuate the common interest and character of its membership and community.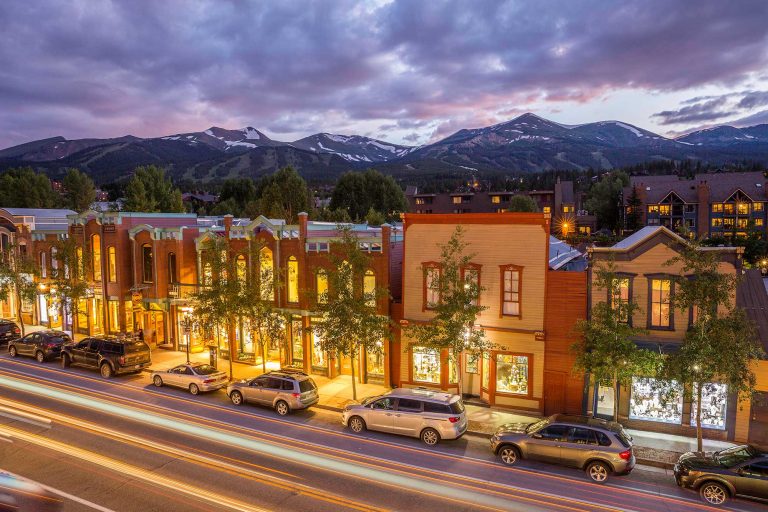 Embrace The Spirit
BLike Breckenridge™️ is a movement born of the spirit of our historic mountain town for those who call it home—whether for a weekend or a lifetime—to live by. It is a cause that connects us to each other, that we can all be a part of.